最新のお知らせ
NIJISANJI EN launches 4th VTuber auditions!
English VTuber auditions open now!

March 04, 2022 - Tokyo, Japan

ANYCOLOR Inc. (formerly ANYCOLOR Inc.; headquarters: Minato-ku, Tokyo; CEO: Riku Tazumi) is opening auditions for male and female character VTubers for their English-speaking VTuber project, NIJISANJI EN.

We are honoured to announce that Auditions for English VTuber of the NIJISANJI EN project open today, March 04, 2022 at 11:00 JST!
You can now audition for NIJISANJI EN, the largely English-speaking VTuber project who are active on a global scale. 
Are you ready to join NIJISANJI EN and make the world your stage?

▼ English VTuber Audition: Details:
Criteria: 
・Keen to perform as a character 
・Must be able to speak fluent English (multilinguals welcome) 
・Gender does not matter! 
Note: For more details, see the application form. 
 
Application form:
https://forms.gle/ntsbboLKczRPx4si8
 
Application deadline:
Thursday,
March 31st, 23:59 JST / 07:59 PDT 
 
Note: We aim to contact applicants within one month after closing applications, but you may be contacted later than that.
 


About NIJISANJI



NIJISANJI project is a VTuber program where a variety of talented influencers participate. The objective of this project is to accelerate the beginning of the next generation of entertainment through services such as events, sale of goods and digital contents, production of music, etc. As of November 2020, more than 100 VTubers are actively performing unique activities on video streaming platforms such as YouTube.

About NIJISANJI's overseas VTuber project
Through expansion of the VTuber business overseas and localization with countries all over the world, we aim to acquire enthusiastic and passionate global fans. As of May 2021, the project has expanded to three Asian countries (China/Indonesia/Korea) in their local languages as well as English. 
Our goal is to act as the bridge that delivers Japan's entertainment content to other countries, utilizing the networks of each country.

■ For more information, visit:
・ NIJISANJI Official YouTube (EN):  
https://www.youtube.com/channel/UC-JSeFfovhNsEhftt1WHMvg 
・ NIJISANJI Official Twitch:
https://www.twitch.tv/nijisanji_en
・ NIJISANJI Official Twitter (English account): 
https://twitter.com/NIJISANJI_World
・ NIJISANJI Official website:
https://nijisanji.ANYCOLOR.co.jp/
・ NIJISANJI Official Reddit:
https://www.reddit.com/r/Nijisanji/
・ NIJISANJI Official Instagram:
https://instagram.com/nijisanji_en 
・ NIJISANJI Official Tiktok:
https://www.tiktok.com/@nijisanji_en?lang=en
・ NIJISANJI Official Facebook (English account): https://www.facebook.com/nijisanji.official/ 
・ NIJISANJI Official YouTube (JP): https://www.youtube.com/channel/UCX7YkU9nEeaoZbkVLVajcMg

 
About ANYCOLOR Inc. 
NEXT ENTERTAINMENT FACTORY "A NEW MAGICAL EXPERIENCE"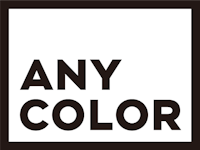 Our company, which was founded in May 2017, has been in business for four full years and is currently operating as a comprehensive entertainment company with about 200 employees and 100 talents, including our core business, VTuber group NIJISANJI, and other VTuber businesses in Japan and overseas, as well as the VR communication business Yumenographia. 
In May 2021, we will enter our fifth year, and as we approach the beginning of the new year, we have restructured our corporate brand (corporate rebranding) to embody the values and direction that we want to emphasize. We will continue to work to earn the expectations and trust of as many people as possible. 
 
■ About inquiries from individuals and corporations 
ANYCOLOR Inc. Corporate Site Inquiry Form 
https://www.anycolor.co.jp/en/#contact  
 
■ About the application for coverage regarding this matter 
Public Relations, Corporate Planning Department, ANYCOLOR Inc. 
Email: pr@anycolor.co.jp 
 
◆ Company Information 
ANYCOLOR Inc.  
Location: Minato-ku, Tokyo 
Representative: Riku Tazumi, CEO 
Founded: May 2, 2017 
Website: https://www.anycolor.co.jp/en/