最新のお知らせ
【International VTuber Manager】Delivering entertainment globally. With an eye on the world's latest trends, overcome challenges one by one with Vtubers.【Employee Interview】
ANYCOLOR Inc.(Hereafter, "ANYCOLOR" or "company"), is actively expanding its "NIJISANJI" entertainment business overseas after cementing its foundation in Japan. 
The Overseas Talent Managers of ANYCOLOR provide full support to NIJISANJI's overseas branches, including those in Indonesia and China. 
 
We interviewed Mr. S.O., the leader of the overseas talent managers, and Mr. Y.F., the head of overseas operations. 
We asked them to tell us about the difficult aspects of their jobs with regard to managing international branches. 

[Interviewee] 
Mr. Y.F.: Head of Overseas Business Operations 
Joined ANYCOLOR in 2018. After working for the VTuber business in Japan, he became in charge of the entire overseas operations. 
Prior to joining the company, he had established several businesses himself, mainly in the distribution and education industry. 

Mr. S.O.: Leader, Overseas Talent Manager 
After graduating from a university in Indonesia, he supported corporate clients to set up operations in Indonesia while providing interpretation services at a consulting firm. 
Later, he was engaged in the management of pop culture events centered on cosplay to realize his aspiration of " being Japanese and doing what I love for a living". He joined ANYCOLOR in 2019 because he found great potential in cross-border content for VTubers, which had just emerged at the time. 
"The beauty of VTubers: Their contents are borderless."


Q. How did you come to work for ANYCOLOR? 
 
S.O.: 
My background is a bit unique. After graduating from a university in Indonesia, I was hired locally in Jakarta and worked as a consultant and real estate broker. 

After several years, I found the "real me" who wants to be involved in the entertainment field, which I really love and is filled with Japan's unique strengths and charms. That is why I started to get involved in the business of managing pop culture events. 

Coincidentally back then, I saw that VTubers were gradually becoming popular in Japan. I got convinced that "VTubers have the potential to cross the borders, and are a new genre of content that can support creators who are still unknown in light of the rise of new communication tools such as online chat, SNS and others", so I got attracted to VTubers themselves. 

When I returned to Japan with my fascination for VTubers, I had a chance to talk with ANYCOLOR, a company that wanted to develop VTuber contents globally, and decided to join. 
 
Q to S.O.. You have been involved in ANYCOLOR's overseas VTuber business since its inception. Why did you want to be involved in overseas business? 
 
S.O.: 
When I was in Indonesia, there were not many event planners in charge of subculture events, so I handled many company visits myself. 

At that time, I felt a strong sense of discomfort when my clients mentioned "Indonesia has a large population, but it is not viable for entertainment businesses". 

Because most traditional business persons think Indonesia is not optimal for entertainment business, they do not distribute authorized content, resulting in the spread of pirated products. We needed to change this old fashioned business method to protect creators and content. I have been looking for a new form of content that can break through this situation. So, I naturally asked for a position in an overseas business. 

Q. Why was ANYCOLOR special to you then?  
 
S.O.: 
When I first joined the company, NIJISANJI was dramatically expanding. NIJISANJI looked very attractive to me because they were super passionate about their performance. Also, we had the potential to easily export NIJISANJI content to other countries because Live2D does not require 3D equipment. 

Also, at the time, the company culture was very receptive towards new business. I felt that I could try to realize my aspiration to "cross the borders with VTuber content".

A touching job where you can feel all kinds of emotions and excitement of the Livers directly!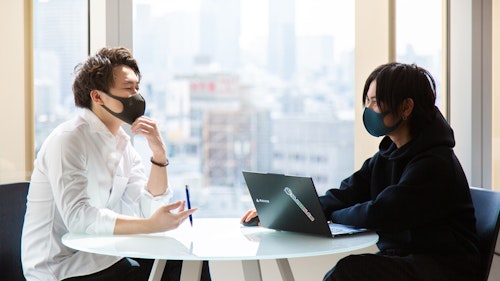 Q. What kind of work do you do as an overseas talent manager? 
 
S.O.: 
The most common task is to respond to questions and requests from the Livers whom I manage. 
Our communications range from confirming the material for streaming, assigning talent for projects/events and witnessing these events, proposing improvements to increase the response to the videos, to maintaining manuals. 

Other tasks include planning include contents and events, planning, as well as coordinating with related parties in the sale of merchandise. 
I would say I act as an intermediary between the Livers and the company. 
 
Y.F.: 
The job is to provide full support for the Livers' streaming activities. 
The manager takes the lead to obtain a budget from the company to create 3D models. The key to this job is finding out how to help the Livers maximize their self-expression. 

Q. What is a typical day at work like? 
 
S.O.: 
ANYCOLOR has a flexible work schedule, with main operating hours from 11:00 am to 5:00 pm. The members of our department usually start work between 9:00 am and 10:00 am. 
In most cases, we don't have routine work every day, but work on a project basis from day to day. 

Meetings with the Livers and administrative work take up most of the day. Occasionally, we watch the stream of the Livers we are assigned to. 
There are no regular office hours. The workday ends with those who have finished what they need to do. 
 
Y.F.: 
You may be concerned: "If I were in charge of an overseas Liver, I would have to respond to emergencies even after business hours because of the time difference". However, that concern is unfounded. Although we inevitably get busy during events and special streams, we try to create a comfortable working environment as much as possible. 
 
S.O.: 
Although the workload is somewhat heavy since one manager is in charge of multiple Livers, I have the impression that everyone is coordinating their work well. As a leader of managers, I am constantly working to improve the workload for this assignment. 

Q. Do you think it is important to have good language skills when managing overseas Livers? 
 
Y.F.: 
Especially for the position we are now recruiting for, English proficiency is a must as we would like you to be in charge of English-speaking Livers. 
 
S.O.: 
There are two types of managers: "main managers," who communicate directly with the Livers, and "sub-managers," who are in charge of administrative tasks. 
 
If you are the main manager, speaking skills are especially important because you will mainly communicate with the Liver in charge, including regular meetings and event briefings. 
In terms of language level, business-level English skills are a must to work as a main manager. 
 
Sub-managers, on the other hand, are mainly involved in administrative work such as documentation. So, reading and writing skills are more important. 
 
Y.F.: 
If you can only read or write, don't worry, we will assign the right person in the right position. 
 
We plan to assign roles based not only on language skills but also on business competence, so in some cases, you may often start as a main manager. 
 
In that regard, you may consider it a meritocratic position. 
 
Q. You mentioned "meritocracy." What kind of competency is required for this position? 
 
S.O.: 
I think the requirements can be broken down into several factors, but the first factor is that you are a "digital native". 
 
Our business with the Livers and internal parties are conducted online. It is a prerequisite that you do not feel any obstacles with digital communication. Since there is a lot of data exchange, skills in managing that data are also important. 
 
The second factor is "multitasking skills". In the course of your work, you will need to deal with multiple tasks at the same time. Management skills in a broader sense, such as managing your own tasks and coordinating with stakeholders, are required. 
 
A "marketing mindset" would be a nice-to-have factor. When making proposals to your Livers, you sometimes need to understand and analyze the behaviour of streaming platforms such as YouTube and Twitch. 
You will be a better manager if you can clearly explain "why the number of views for a specific video has increased", and "what improvements can make the VTuber shine brighter". 
 
Y.F.: 
I believe that the level of understanding and interest in the entertainment industry is proportional to your ability. It is also the point that we look at the most during the selection process. 
 
When you interact with VTubers, you will be exposed to a variety of entertainment business ideas. The fundamental way of thinking or approach is not something that can be acquired through classroom studying, so it is important to have the spirit of wanting to understand the entertainment industry from the bottom of your heart. 
 
With these qualities as a foundation, we will determine your capacity as mentioned above like multitasking and communication skills. 
 
Personality is also important. From a Liver's point of view, the manager in charge represents ANYCOLOR. We believe that the ability to communicate appropriately with Livers depends on the personality of the manager in charge. 
 
S.O.: 
Certainly. 
It is an important trait of a manager to make the Liver feel that "with the manager in charge, I can express myself with ease". 
 
How well the manager works has a big impact on the lives of the Livers he or she is in charge of. This is not an exaggeration.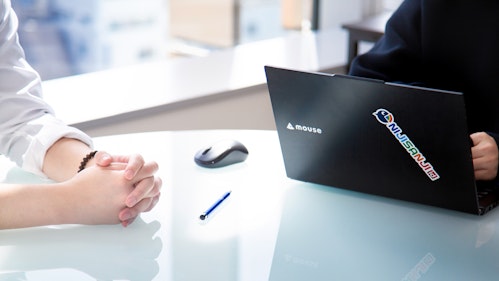 Q. It's an important job that involves the lives of the Livers. Please tell us how fulfilling your job is. 
 
S.O.: 
This is just too much to list. 
 
There is no end to the list of moments when I feel rewarded for my hard work. 
Say, it is when we receive words of gratitude directly from the Livers, or when we staff receive fan letters from time to time. 

I also feel a strong sense of accomplishment after events such as anniversary celebrations and debut parties. 
In particular, after the stream which takes months of preparation, I feel an irreplaceable sense of accomplishment, just like when I finish the school festival in my school days. I believe that the strong connection between the staff and the Livers, which goes beyond work, is one of the most rewarding aspects of this position. 
 
The moment a Liver gets teary-eyed during an event, I get teary-eyed too... 
There is no better job than to be the closest, physically and emotionally, to a Liver's shining moment. 
 
Y.F.: 
As a manager, you will work with almost all departments of ANYCOLOR. I think it is also rewarding to be able to experience the circumstances of each department in the company and how they actually work, and as a result, to develop a wide range of skills as a businessperson. 
 
Q. Do you have any memorable episodes in your work? 
 
S.O.: 
I myself was involved in the launch of NIJISANJI ID, so that's all I can talk about, but there are so many. 
 
Before the Covid-19 pandemic, I witnessed the recording in the studio. The live performance at that time was a special commemorative stream, and at the moment when the Liver was so moved that he cried, I cried too. 
 
Here's another story. 
When we had an opportunity to do long hours of distribution for NIJISANJI ID's second anniversary, we tried to make a heartwarming video and play it at the end of the distribution as a surprise. 
Obviously, I watched the video over and over again during video checks and rehearsals, but when I watched it during the actual distribution, it made me cry. 
 
It sounds like I've been crying when I do my jobs… lol 
 
Y.F.: 
Mr. S.O. actually cries a lot lol. 
However, this does not mean that he is particularly tearful, but rather that he works in a department whose mission often tugs at the heartstrings. 
 
Managers usually associate with Livers, so it is a great feeling to see the Livers you come in contact with everyday shine and sparkle, and to see them up close and personal. 
 
I have to admit that from time to time, as a company, we have to be strict with our Livers. However, being a manager, you will overcome those tough situations and continue to work with Livers toward a common goal. Then you will feel satisfied with your job from the bottom of your heart.

"NIJISANJI will become a bridge for international exchange"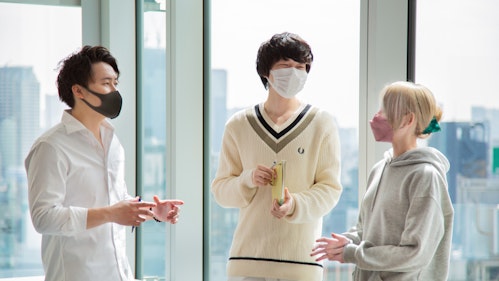 S.O.: 
The workload of a manager is not small, so I needed some time to get used to it. 
I found it tough especially when there are overlapping projects and events. In addition, I have to do follow-up work for my Livers. Now I understand the importance of self-management. 
 
In addition to the company itself being a start-up, the managers in charge of overseas VTubers are particularly venture-minded, so there is a tendency that each staff developed their own way of work. This makes our job even more challenging. 
 
Due to the nature of our business, in which there are no standardized tasks and no correct answers, it is necessary to proceed with each task carefully, while conversing with professionals in other departments whenever appropriate. 
 
Q. Let me ask from a broader perspective. Is there any difference in expanding the entertainment business overseas and in Japan? 
 
Y.F.: 
I would say it is a culture. 
Since the entertainment business tends to grow by reflecting the culture of each country strongly, we believe it is essential to understand the culture of the target country. 
As a matter of fact, we have grown up under Japanese culture, so the challenge is to digest the culture of other countries and incorporate it into the content of NIJISANJI. 
 
To address this issue, the Overseas VTuber Division recruits diversely in terms of country of origin, beliefs, and genre of entertainment that interests each employee. 
Regardless of position or age, we encourage our members to share their experiences and insights about the entertainment industry they have been exposed to. This is what will bring our Japanese content "にじさんじ" to being the global content of "NIJISANJI". 
 
Q. How do you think NIJISANJI will get more popular globally in the future? 
 
Y.F.: 
In Japan, the culture of live streaming is being replaced by VTubers. We believe that the same trend will happen in other countries as well. 
 
To be more specific, I think it will be accepted as a value that "some live streamers show their faces while others act as VTubers". 
 
Will the borders between two and three dimensional spaces disappear, as in the recently popular metaverse? 
 
S.O.: 
I do not have any preconceptions. 
 
There is no clear goal or solution for VTuber content, so I believe that it will change its style on an ad hoc basis as technology and tools develop. 
 
In my opinion, VTubers today have not yet broken out of the subculture domain. It remains to be seen whether they will become more like real-life celebrities or whether they will become a separate category of distributors. 
 
What will NIJISANJI look like in the future? 
That is what I am looking forward to as I go about my daily work. 
 
Q. What do you want NIJISANJI's overseas business to be to its viewers? 
 
S.O.: 
Since the Covid-19 pandemic, more people have been enjoying content at home. In proportion to this, the presence of VTubers has become stronger, both in Japan and abroad. 
In such a situation, I received a message from a fan that said, "I was depressed due to the coronavirus pandemic, but when I watch NIJISANJI, I can forget everything that I feel bad about. Thank you very much." 
 
From this message, I found that although NIJISANJI is just one of the many forms of entertainment content, it brings a little happiness to the daily lives of viewers and Livers. I would like to expand this even further. 
 
Y.F.: 
Livers are located in many different countries, and I feel that overseas Livers engage a more international fan base. 
In other words, NIJISANJI has become a bridge for international exchange, as more and more people from overseas have become interested in Japan, overseas listeners have participated in events in Japan, and the fan community has become more multinational. 
 
I would like to make this bridge even bigger by increasing the number of overseas talent managers.

"Wanted:Let's unleash the potential of entertainment content beyond dimensions and borders, and shine together!"
Q. Overseas talent manager is a challenging and promising job, and we are looking for people to work with us for our further business growth. 
Please tell us about the benefits of this position and the working environment. 
 
S.O.: 
We believe our workplace is a good place to work because of the flexibility to adjust the working hours. 
Because Mr. Y.F and myself give you autonomy as long as you do what you are supposed to do, I don't think there is any old Japanese way of working. 
 
In addition, our department has introduced work from home style, so if you are comfortable working remotely, this is an easy environment to work in. 
 
By the way, although it is not the case now, I used to go overseas on business trips almost all the time before the Covid-19 pandemic. 
 
Y.F.: 
Let me elaborate on our overseas business trips. I went to countries where we have operations to meet with staff members and client companies to conduct meetings, and to report our activities. 
 
It was as if I spent most of the year abroad. 
 
If overseas business trips resume in the future, it will be for participating in local events or meetings with the Liver in charge. 
Resumption of overseas business trips is undecided at the time of the interview. 
 
Q. Who is suited to be an overseas talent manager? 
 
S.O.: 
First of all, you must be a good communicator. 
Whether it is in dealing with the Livers or internal stakeholders, it is your job to communicate based on the other person's point of view 
 
If you have the mindset to grow the NIJISANJI brand together with us, you will be able to work with a stronger sense of fulfillment. 
 
Y.F.: 
It is very important that you enjoy communicating with people. 
Also, if you want to gain experience by performing a wide range of tasks and enjoy acquiring new knowledge, you will be the one for this position. 
 
Q. What skills does an overseas talent manager gain? 
 
S.O.: 
I believe it will help you gain problem-finding and problem-solving skills. 
 
"Why is this project not progressing well?" 
"Why is the Liver in charge of this project not growing?" 
You will gain experience in finding these issues, coming up with your own solutions, and thinking about how to take actions toward those solutions. 
 
Based on my experience, mid-career hires grow up to be very different in about six months. 
 
Even if you are not with ANYCOLOR for the rest of your career, I believe you will have a wide range of job opportunities available by leveraging your working experience here. 
 
Q. What kind of skills do you want in your staff? 
S.O.: 
English proficiency is required, but there are no other special must-have skills. 
 
If you have basic business skills, such as managing multiple tasks, responding in a timely manner, and are comfortable working remotely, please feel free to apply, regardless of your educational or professional background. 
 
Y.F.: 
If you are not personable to everyone, both internally and externally, you will not be able to get the job done, no matter how excellent your business skills are. 
Therefore, we would like to meet people who are personable and enjoy communicating with others. 
 
Q. Lastly, please share your message for those who are debating on whether to apply! 
 
S.O.: 
Let's go beyond dimensions and borders together to create "NIJISANJI" content! 
 
Y.F.: 
ANYCOLOR offers a very broad range of work areas, so there are many different positions where each person can be active in. We assign employees with a wide variety of skills to the right places, so please let us talk to you first! 
 
Behind NIJISANJI's global business growth lies the strong and passionate desire of overseas talent managers who continue to earnestly pursue entertainment business opportunities. 
As NIJISANJI expands further into the world, unlimited possibilities which no one can predict lie ahead. 
 
ANYCOLOR is currently actively recruiting members to work as overseas talent managers, as introduced in this article. 
If you would like to make the most of your English skills and help to create a future unique to NIJISANJI, this is the opportunity for you to apply. 
 
*Information is accurate at the time of the interview. 
*Interviewed and written by Shunya Nakajima

RECRUIT INFORMATION (2022.04.22 updated)